ECO-opia
Does sustainable intensification mean large-scale, industrial agriculture, or can it build on the traditional methods of many African farmers?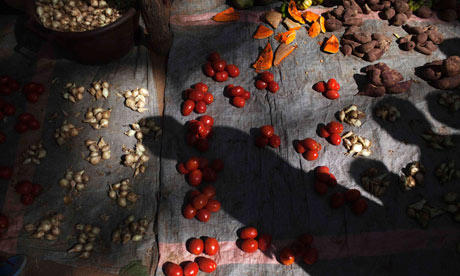 Tomatoes for sale in the central market in
Mali
, 2013. Could sustainable intensification increase
crop yields
in
Africa
? Photograph: Joe Penney/Reuters
This week
in Dublin
, world leaders, policymakers and civil society representatives met to discuss the urgent and interrelated issues of hunger, nutrition and
climate justice
that are faced by the poorest people and nations. In parallel, the global community is
already discussing
the goals and metrics that should shape sustainable development once the
millennium development goals
expire in 2015.
It is time to place sustainable intensification at the heart of African agriculture, and ensure that development goals deliver on the agenda opened in Dublin. Sustainable intensification involves producing more crops, better nutrition and higher rural incomes from the same set of inputs – such as…
View original post 758 more words