See on Scoop.it – Agriculture, Climate & Food security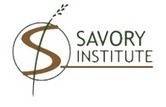 » TED2013 Selects Allan Savory | Healing the Grasslands, Rangelands and Savannas of the World.
Bukar Usman (D.V.M., M.V.S.c)'s insight:
…We at Savory Institute are very proud to announce that Savory Institute Founder and President Allan Savory has been chosen to present at the TED2013 global conference "The Young. The Wise. The Undiscovered " in Long Beach, California Feb 26-March 1, 2013….
See on www.savoryinstitute.com