See on Scoop.it – Agriculture, Climate & Food security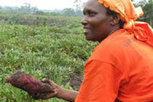 This article is about the Sahel, but it has relevance for other regions.
"There is a clear linkage between hunger and conflict; food security and peace in Africa…Investing in food security in the Sahel is also an investment in a peaceful and more stable future" [Graziano da Silva, Director General, FAO]. The western part of the Sahel region, which stretches from the Atlantic Ocean to the Red Sea, and includes Chad, Mali, Mauritania, Niger, and parts of Sudan, Cameroon and Nigeria, is currently facing a swathe of problems, which are not only political but also involve security, humanitarian resilience and human rights.
In addition to political instability in Mali, the region suffers from extreme poverty, with human development levels among the lowest in the world, porous borders that present significant security challenges, as well as human rights problems. Added to that is the humanitarian crisis affecting the region this year, in which over 18 million people are estimated to be at risk of food insecurity and over one million children risk severe acute malnutrition.
"It is essential to step up support and also combine short-term humanitarian responses with longer-term development actions…We need to make livelihoods more resilient. And we need to ensure that our interventions in different areas – food security and nutrition, agriculture, health, education and security – are as integrated as possible."
See on www.un.org