Kendall said: "The use of unmanned robots is rather more futuristic but people are working on it. As well as field operations, there is potential in fruit harvesting and even livestock management. It is certainly an exciting time to be involved in farming."
Foundation for Young Farmers
UK farming conference hears how 'farmbots' will bring efficiencies and benefits and an end to back-breaking tasks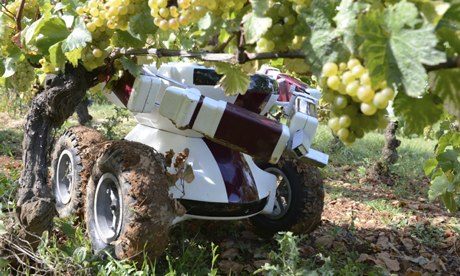 A robot being used in vineyards in Chalon-sur-Saône, France. Photograph: Philippe Desmazes/AFP/Getty Images
Will robot feet in near-future time walk upon England's mountains green? And will there be drones flying overhead from England's pleasant pastures seen?
A new vision of robots patrolling the meadows and cornfields of the UK may seem dark and satanic to some, but according to farmers and the government it is the future, and will bring efficiencies and benefits, and an end to some of the most back-breaking jobs around the farm.
An increasing number of "farmbots" are being developed that are capable of finicky and complex tasks that have not been possible with the large-scale agricultural machinery of the past.
For instance, a "lettuce bot" is capable of hoeing away ground weeds from around the base of plants…
View original post 726 more words